Colorado Front Range Tree Service Company
We are a full service tree care company offering science-based tree care techniques. Hire a licensed ISA Certified Arborist for your tree needs in order to protect you and your trees.
WHY HIRE A LICENSED, INSURED, ISA-CERTIFIED ARBORIST?
You don't want to risk the health of your trees or the safety of your property and loved ones to someone who is under-qualified. Your trees are a long-term part of your landscape and proper care and pruning will help your trees enhance your property for longer.

Sometimes the lowest quote can end up costing you more down the road if the tree is improperly pruned or damage or injury occurs on your property by a company without the proper insurance. You want someone who values the safety of your property, pets, and family as we do. Our prices are fair and competitive with other qualified companies. Our customers know when they choose Altitude Arborist, their trees and their property are in the best hands.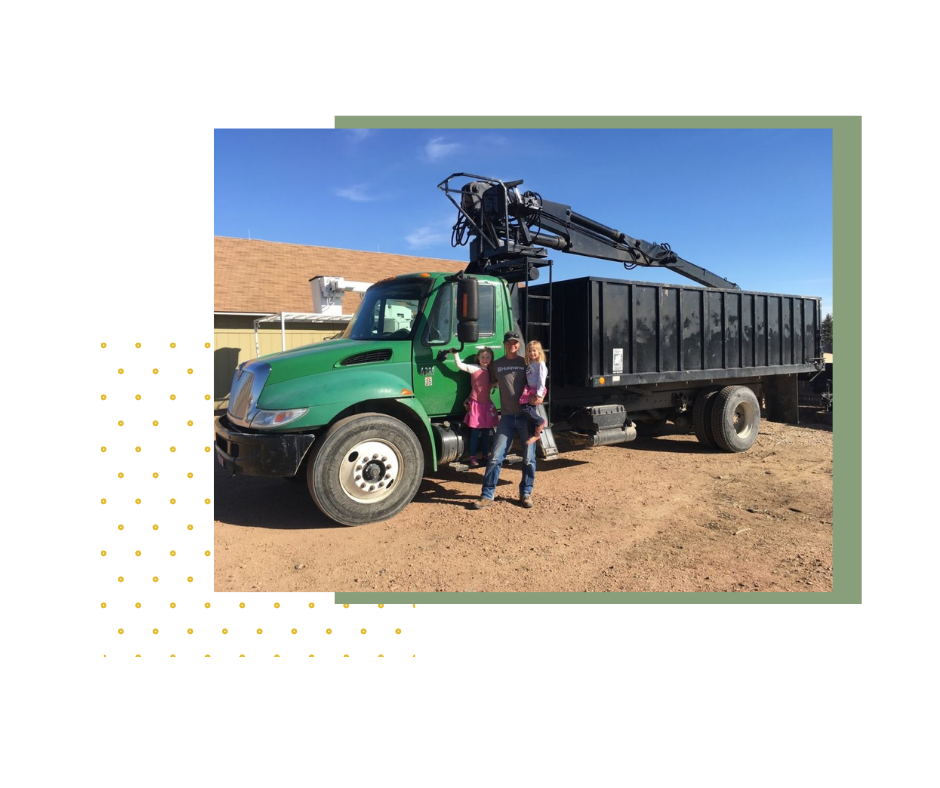 Altitude Arborist Service Highlights
If a customer would like to see the entire tree removed including the stump we can accommodate that! We can grind any size stump. Generally stumps are ground 6-8 inches below the surrounding landscape grade. For many stumps, the grinding will remove a majority of the root ball and some of the lateral roots.
We own a bucket truck with a 65 foot reach to aid us in the removal of trees where access is adequate. We have arborists on staff capable of hand climbing trees in more remote areas of the landscape where our bucket truck cannot be utilized and the tree is safe to climb and remove.
Altitude Arborist, LLC is a family owned and operated company
We are committed to safe work practices, quality customer service and are fully licensed and insured.
Hear What Our Customers Are Saying!
Annual tall grasses and shrub pruning. Original job not performed to their usual standards, Hunter was quick to respond to our concern and had a crew back to correct the problems the next day. Quick response to a problem is the sign of a good company and attitude.
I asked Altitude Arborist to come out and help us decide what to do regarding a very messy tree. Hunter came out right away and he was honest, kind and very knowledgeable about what type of tree it was and what it is susceptible to. We also discussed the possibility of planting a new one and adding additional shrubbery for some privacy on a front porch. Hunter took the time to hear me out and had some great suggestions. If you are in need of someone to come take a look and care for your trees no matter the stage they might be new, old, or sick, I highly recommend Altitude Arborist!
Annette Stelmack
2021-02-09
Altitude Arborist provides phenomenal expertise & services! They have taken care of all our trees for the past few years & our large yard . We have a large variety of trees including a few Ash trees too. The ash and all of our trees are healthy & thriving because of regular pruning, treatments & feedings. Altitude Arborist is fantastic, knowledgeable & we highly recommend Hunter & his team!!
Highly recommended and I've heard it's an amazing company to work for.
Removed a giant blue spruce and aspen from our home and pruned our oak. Worked so quickly and so neatly- it's like those big trees were never there! Professional, quick, and clean- great business!
All American Services LLC
2020-06-22
Excellent company to work with, great quality and nice personnel!
They have taken care of all my trees for the past 4 years and they are the best looking trees on the block. We have a number of Ash trees too and they have kept them healthy with regular treatments and feedings. They removed one dead tree and could not even tell they were here except the tree was gone after work. They are wonderful and I highly recommend them for your tree care needs!
Hunter Townsend & Altitude Arborist have done excellent work my HOA and my folks house in Denver. The crews cone off areas so tenants or people walking by are not in danger from falling branches or debris. They clean up the work site at the end of each day. With so many years of knowledge and passion for trees Altitude Arborist is the way to go for all tree care and removal needs.
We had two huge Cottonwoods that needed to be removed and, knowing it was going to be a big job, got quotes from 5 other local companies. Hunter's price for both trees, including stump grinding, was around what most other companies quoted us for just the largest tree. We back on to town property and Hunter completely took care of the permits for access to the greenbelt for removal. The team was prompt, professional, responsive, and left the yard in perfect condition. We highly recommend them and will definitely use them for all of our future tree care.
Always first class service at a reasonable price!
It's time to start caring for your tree and we can help!
Contact us for your tree needs in order to protect you and your trees.