COMPREHENSIVE TREE AND SHRUB CARE IN THORNTON
Growing Healthy Colorado Trees
Make sure your trees and plants are happy and healthy. Altitude Arborist uses science-based tree care techniques for trees and shrubs in Colorado.
Altitude Arborist is a Cut Above the Rest
Altitude Arborist is a Cut Above the Rest
SPECIALTY TREE CARE IN THORNTON, CO
Thornton, Colorado is a populous suburb of Denver with an inspiring community spirit and a desirable outdoor life. There are 200 acres of former farmland making up the town, full of areas for recreation and beautiful, open space. Thornton is a progressive city, consistently focused on improvements and modern programs to build its foundation and increase the economy.

There are a number of attractions and activities in Thornton, adding to its community charm. With 25 major parks, a 20-acre corn maze, disc golf, and multiple festivals each year, Thornton continues to be a Colorado city for all.

As it experiences abundant growth, Thornton homeowners are learning how to care for their properties, including the trees and other plants. Tree care in Thornton isn't just about removal. In fact, it's about creating a harmonious ecosystem that benefits the property's plants, as well the natural world as a whole. Altitude Arborist provides natural tree and plant care for Thornton residents, educating homeowners and helping make the planet healthier.
ALTITUDE ARBORIST TREE CARE SERVICES IN THORNTON
Altitude Arborist is a Cut Above the Rest
Altitude Arborist is a top tree and plant care company in Thornton. We use eco-friendly methods and follow the safest practices as we work to provide exceptional tree care. Altitude Arborist always guarantees top treatment, personalized customer service, and comprehensive education. Our services include:
If a customer would like to see the entire tree removed including the stump we can accommodate that! We can grind any size stump. Generally stumps are ground 6-8 inches below the surrounding landscape grade. For many stumps, the grinding will remove a majority of the root ball and some of the lateral roots.
We own a bucket truck with a 65 foot reach to aid us in the removal of trees where access is adequate. We have arborists on staff capable of hand climbing trees in more remote areas of the landscape where our bucket truck cannot be utilized and the tree is safe to climb and remove.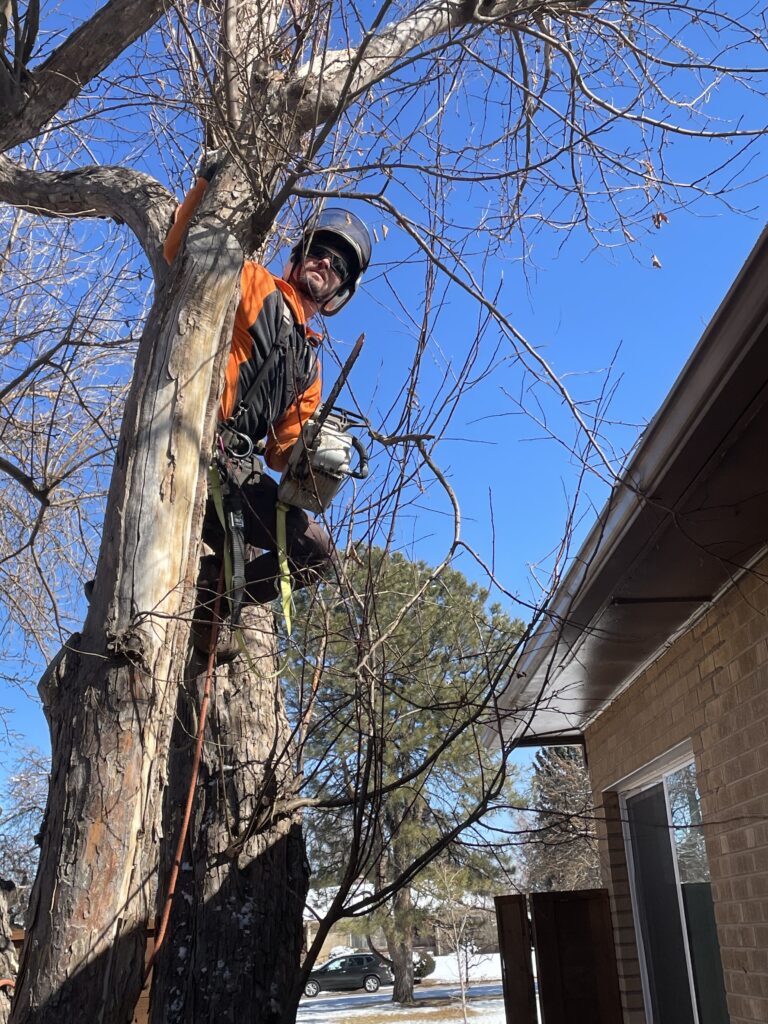 Doing Your Part Starts Here
THORNTON PLANT CARE - A HEALTHY WORLD, SIMPLIFIED
Altitude Arborist always goes a cut above for our clients, for Thornton, and for the world. Our commitment is to excellence, safety, quality, and education. When you work with Altitude Arborist, you are making an investment in the Thornton community and the planet. Learn how to care for your trees while receiving custom science-backed solutions for your plants and trees. Together, we will create a healthy, whole planet.
At Altitude Arborist, we strive to create customers for life. We've been fortunate to serve many of our customers for the last 5 years straight. We strive to care for your tree like you are family. With 2 ISA Certified Arborists and degreed foresters on staff, you know that you're going to get expert services and the right care for your trees and plants.

We are a family-owned company that is committed to making sure you feel like you are a part of the family. We are committed to the highest standards of safety practices while providing exceptional customer service.

With the ever-changing climate landscape, Longmont trees required updated techniques and modern plant care measures to properly care for your plants and trees. We provide the most scientific method for tree pruning, tree removals, cable and bracing systems, storm damage mitigation, tree planting, stump grinding, and plant health care.

Altitude Arborist – Advanced Tree Care has provided expert tree services on the Colorado Front Range since 2016 and If you want your trees to be cared for the right way, contact us!
Tree Service Requests Completed